Laboratorio Biología de la Reproducción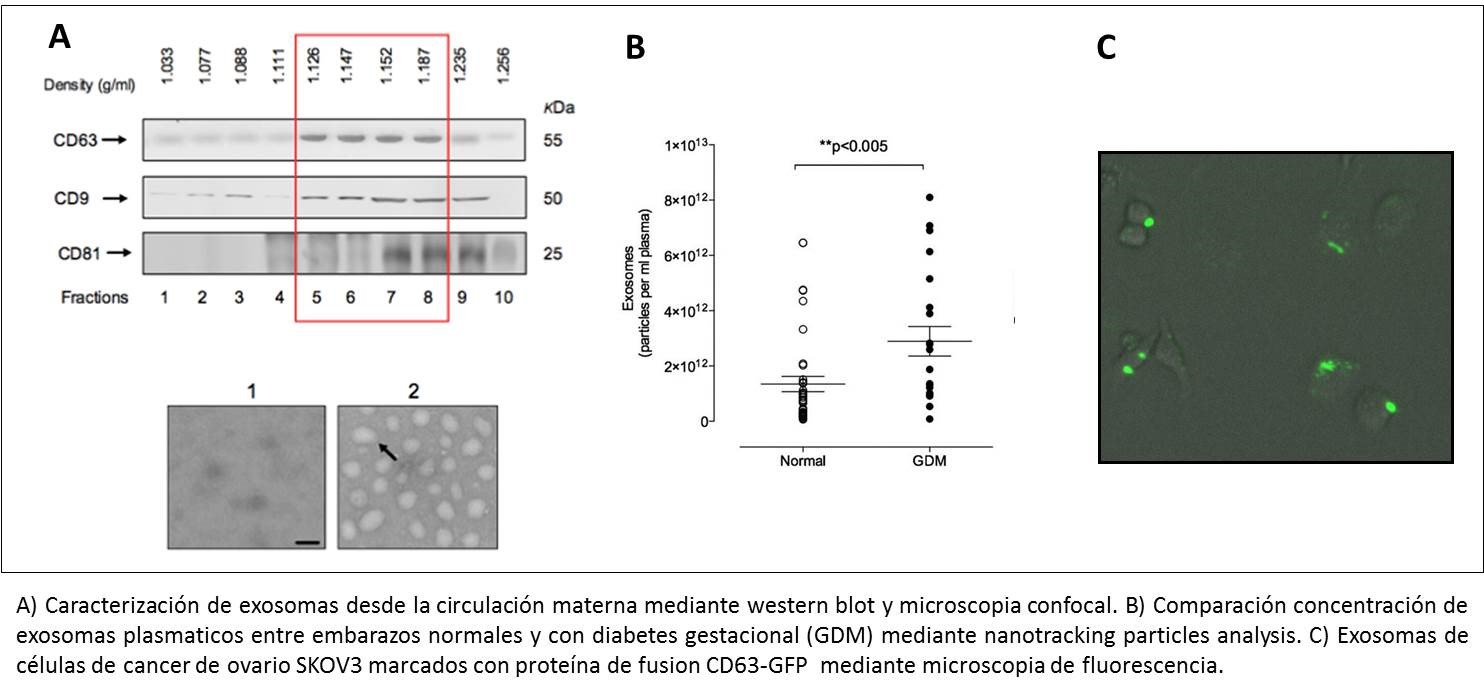 Dirigido por: Sebastián Illanes, MD, Msc.
Investigadores: Manuel Varas, (PhD, profesor del Programa), Horacio Figueroa (MD, MsSc) y Aneta Dobierzewska (PhD).
Asistente de investigación: Stephanie Acuña.
Estudiante Post- Doctorado: Lara Monteiro.
Estudiante Doctorado: Albano Cacéres, Daniela Albers.
Estudiantes de pregrado: Sebastián Venegas.
Bioquímicos: Sofía Cubillos, Charlotte Hill, Ornella Reallini.
Dirigido por Sebastián Illanes (MD, MSc), Horacio Figueroa (MD, MSc) y Manuel Varas (PhD), está dedicado principalmente al estudio de patologías del embarazo asociadas a disfunción placentaria, en la descripción de mecanismos fisiopatológicos, y al desarrollo de algoritmos predictivos para patologías como pre-eclampsia y parto prematuro. Además, se estudian alteraciones renales en el recién nacido, asociadas a retardo de crecimiento intrauterino en el contexto de la programación fetal.

Por su parte, el Dr. Varas está enfocado en la descripción de biomarcadores para la detección temprana de cáncer de ovario, así como también en el estudio de los principales factores que están involucrados en la quimio-resistencia de este tipo de tumores.

Publicaciones (selección Sebastián Illanes):

1. Figueroa H, Silva MC, Kottmann C, Viguera S, Valenzuela I, Hernández-Andrade E, Gratacos E, Arraztoa JA, Illanes SE. Fetal evaluation of the modified-myocardial performance index in pregnancies complicated by diabetes. Prenatal Diagnosis 2012; 32(10):943-948. IF: 3,268

2. Velauthar L, Plana MN, Kalidindi M, Zamora J, Thilaganathan B, Illanes SE, Khan KS, Aquilina J, Thangaratinam S. Uterine artery Doppler in the first trimester as a risk factor for adverse pregnancy outcomes: A meta-analysis involving 55,974 women. Ultrasound in Obstetrics and Gynecology 2013; 43(5):500-507. IF 3,14

3. Illanes SE, Maisey K, Sandoval M, Reyes FE, Figueroa-Gaete C, Pérez-Sepúlveda A, Busquets M, González P, Imarai M. Fas ligand (+) fallopian tube epithelium induces apoptosis in both Fas receptor (+) T lymphocytes and endometrial cells. Fertility and Sterility 2013; 100(2):550-60. IF 4,295

4. Sarker S, Scholz-Romero K, Perez A, Illanes SE, Mitchell MD, Rice GE, Salomon C. Placenta-derived exosomes continuously increase in maternal circulation over the first trimester of pregnant pregnancy. Journal of Translational Medicine 2014; 12:204. IF: 3,930

5. Illanes SE, Pérez-Sepúlveda A, Rice GE, Mitchell MD. Preterm labour: association between labour physiology, tocolysis and prevention. Expert Opinion on Investigational Drugs 2014; 23(6):759-771. IF 5,528

6. Perez-Sepulveda A, Monteiro LJ, Dobierzewska A, España-Perrot PP, Venegas-Araneda P, Guzmán-Rojas AM, González MI, Palominos-Rivera M, Irarrazabal CE, Figueroa-Diesel H, Varas-Godoy M, Illanes SE. Placental Aromatase Is Deficient in Placental Ischemia and Preeclampsia. Plos One 2015; 10(10): e0139682. IF: 3,234

7. Salomon C, Scholz-Romero K, Sarker S, Sweeney E, Kobayashi M, Correa P, Longo S, Duncombe G, Mitchell MD, Rice GE, Illanes SE. Gestational Diabetes Mellitus Is Associated With Changes in the Concentration and Bioactivity of Placenta-Derived Exosomes in Maternal Circulation Across Gestation. Diabetes 2016; 65(3):598-609. IF: 8,10

8. Brownfoot FC, Hastie R, Hannan NJ, Cannon P, Tuohey L, Parry LJ, Senadheera S, Illanes SE, Kaitu'u-Lino TJ, Tong S. Metformin as a prevention and treatment for preeclampsia: effects on soluble fms-like tyrosine kinase 1 and soluble endoglin secretion and endothelial dysfunction. American Journal of Obstetrics and Gynecology 2016; 214(3):356. IF: 4,704

9. Palmer KR, Tong S, Tuohey L, Cannon P, Ye L, Hannan NJ, Brownfoot FC, Illanes SE, Kaitu'u-Lino TJ. Jumonji Domain Containing Protein 6 Is Decreased in Human Preeclamptic Placentas and Regulates sFLT-1 Splice Variant Production. Biology of Reproduction 2016; 94(3)59:1-9. IF: 3,318

10. Chaparro A, Gaedechens D, Ramírez V, Zuñiga E, Kusanovic JP, Inostroza C, Varas-Godoy M, Silva K, Salomon C, Rice G, Illanes SE. Placental Biomarkers and Angiogenic Factors in Oral Fluids of Patients with Preeclampsia. Prenatal diagnosis 2016; 36, 1-7. IF: 3,268

Publicaciones (selección Manuel Varas-Godoy):

1. Villota C, Campos A, Vidaurre S, Oliveira-Cruz L, Boccardo E, Burzio VA, Varas M, Villegas J, Villa LL, Valenzuela PD, Socias M, Roberts S, Burzio LO. Expression of mitochondrial ncRNAs is modulated by high risk HPV oncogenes. Journal of Biological Chemistry 2012; 287(25):21303-21315. IF: 4,651

2. Ibarra C, Vicencio JM, Varas-Godoy M, Jaimovich E, Rothermel BA, Uhlén P, Hill JA, Lavandero S. An integrated mechanism of cardiomyocyte nuclear Ca2+ signaling. Journal of Molecular and Cellular Cardiology 2014; (75) 40-48. IF: 4,655

3. Parodi J, Montecinos-Oliva C, Varas R, Alfaro IE, Serrano FG, Varas-Godoy M, Muñoz FJ, Cerpa W, Godoy JA, Inestrosa NC. Wnt5a inhibits K(+) currents in hippocampal synapses through nitric oxide production. Molecular and Cellular Neuroscience 2015; 6(8):314-22. IF: 3,840

4. Alfaro IE, Varela-Nallar L, Varas-Godoy M, Inestrosa NC. The ROR2 tyrosine kinase receptor regulates dendritic sipne morphogenesis in hippocampal neurons. Molecular and Cellular Neuroscience 2015; (67):22-30. IF: 3,840

5. Bulatovic I, Ibarra C, Österholm C, Wang H, Beltrán-Rodríguez A, Varas-Godoy M, Månsson-Broberg A, Uhlén P, Simon A, Grinnemo KH. Sublethal caspase activation promotes generation of cardiomyocytes from embryonic stem cells. PLoS One 2015; 10(3):1-14. IF: 3,234

6. Niechi I, Silva E, Cabello P, Huerta H, Carrasco V, Villar P, Cataldo LR, Marcelain K, Armisen R, Varas-Godoy M, Fernandez C, Tapia JC. Colon cancer cell invasion is promoted by protein kinase CK2 through increase of endothelin-converting enzyme-1c protein stability. Oncotarget 2015; 6(40):42749-60. IF: 6,359

7. Mardones MD, Andaur GA, Varas-Godoy M, Henriquez JF, Salech F, Behrens MI, Couve A, Inestrosa NC, Varela-Nallar L. Frizzled-1 receptor regulates adult hippocampal neurogenesis. Molecular Brain 2016; 9:29. IF: 4,902

8. Weidner JM, Kanatani S, Uchtenhagen H, Varas-Godoy M, Schulte T, Engelberg K, Gubbels MJ, Sun HS, Harrison RE, Achour A, Barragan A. Migratory activation of parasitized dendritic cells by the protozoan Toxoplasma gondii 14-3-3 protein. Cellular Microbiology 2016; 1-14. IF: 4,915

9. Alcayaga-Miranda F, Varas-Godoy M, Khoury M. Harnessing the Angiogenic Potential of Stem Cell-Derived Exosomes for Vascular Regeneration. Stem Cells International 2016; 2016:1-11 IF: 2,813

10. Alarcón V, Hernández S, Rubio L, Alvarez F, Flores Y, Varas-Godoy M, De Ferrari G, Kann M, Villanueva RA, and Loyola A. The enzymes LSD1 and Set1A cooperate with the viral protein HBx to establish an active hepatitis B viral chromatin state. Scientific Reports 2016; 6:1-11. IF: 5,578

Proyectos de Investigación vigentes:

1. Concurso Fondecyt 1140119 (2014-2017). Investigador principal Sebastián Illanes. "Immunomodulatory characteristics of endometrial mesenchymal stem cells and their role in the etiopathogenesis of preeclampsia".

2. Program: NHMRC Development Grant APP1114013 (2016-2018). Australia co- researcher Sebastian Illanes. In vitro diagnosis for first trimester risk assignment of gestational diabetes

3. Primer Concurso Plan de Mejoramiento Institucional. Investigador principal Sebastián Illanes. (2013-2016) "Predicción precoz de preeclampsia basado en la detección de biomarcadores en fluidos orales en pacientes embarazadas".

4. Concurso Inicia tu Idea (2015-2016) Investigador principal Sebastián Illanes. "Determinación de marcadores tumorales en muestras de tejido ovárico en pacientes de programas de preservación de fertilidad".

5. Concurso Fondecyt Iniciación en Investigación (2015-2018). Investigador principal Manuel Varas. "Exosomes Released from Ovarian Cancer Stem Cells in Response to Chemotherapy Promote Pro-tumorigenic Properties of Mesenchymal Stem Cells".