Laboratorio de Neurociencias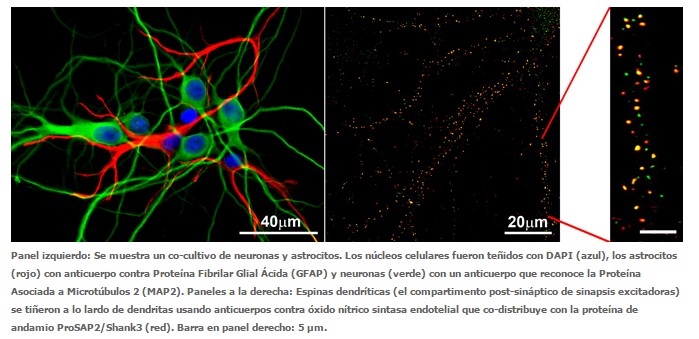 Actualmente acoge a dos estudiantes del Programa: Ariel Caviedes, Anllely Fernández, y Juan Pablo Ramírez.
Dirigido por: Úrsula Wyneken (PhD)
Investigadores: Carlos Lafourcade (PhD)
Asistente de Investigación: Soledad Sandoval (Bioquímico), Teresa Gómez (Biotecnólogo)
Estudiantes de Doctorado: Cristóbal Gómez, Ariel Caviedes, Juan Pablo Ramírez
Postdoctorados: Roberto Henzi, Pablo Cisternas (colaboración con Centro de Medicina Regenerativa)
Estudiantes de pregrado: Katherine Corvalán.
Es liderado por Úrsula Wyneken (PhD), quien además se desempeña como directora del Programa de Doctorado en Biomedicina. Este laboratorio está enfocado en dos líneas de investigación: fisiopatología de la epilepsia y neurobiología de los efectos del estrés crónico en relación a la inducción de conductas de tipo depresivas. En la fisiopatología de la epilepsia, se estudia la participación del factor de transcripción NF-kB en el fenómeno de excitotoxicidad. Por otra parte, se estudian los mecanismos mediante los cuales el estrés crónico induce conductas de tipo depresivas. Se encontró que células gliales del cerebro liberan nanovesículas con un contenido molecular diferencial (proteínas y micro-RNA) según la situación de estrés. Estas vesículas y su contenido molecular constituyen biomarcadores periféricos de tipos de estrés y su blanco lo constituyen tanto neuronas como algunos tejidos periféricos. La Neurociencia se aborda con técnicas moleculares, celulares, electrofisiológicas y conductuales.
El laboratorio colabora a nivel internacional con el Leibniz Institute for Neurobiology, Magdeburg, y con el Centro de Espectrometría de Masas (Otto von Guericke University, Magdeburg) en Alemania, y con la University of Texas Medical School (Houston) y con Harvard Medical School (Boston) en Estados Unidos.

En el marco de estas líneas experimentales, Carlos Lafourcade (PhD) realiza actualmente una investigación que intenta dilucidar los mecanismos por los cuales algunos microRNAs (miRNAs), RNA no codificantes de aprox. 22 nucleótidos, regulan la actividad sináptica de las neuronas hipocampales.
La importancia de los miRNAs para orquestar diversos tipos de procesos sinápticos está recién saliendo a la luz, pero su impacto puede apreciarse cuando se analizan los diversos trastornos neurodegenerativos en los cuales están implicados (enfermedad de Parkinson, Alzheimer, estrés crónico, etc). Algunos de estos miRNAs provienen de células astrogliales, lo que implicaría una novedosa vía de comunicación entre dicho tipo celular y las neuronas.

Publicaciones (selección Úrsula Wyneken):

1. Sandoval R, González A, Caviedes A, Pancetti F, Smalla KH, Kaehne T, Michea L, Gundelfinger ED, Wyneken U. Homeostatic NMDA receptor down-regulation via brain derived neurotrophic factor and nitric oxide-dependent signalling in cortical but not in hippocampal neurons. Journal of Neurochemistry 2011; 118(5):760-72. IF: 4,061.

2. Ampuero E, Stehberg J, Gonzalez D, Besser N, Ferrero M, Díaz-Veliz G, Wyneken U, Rubio FJ. Repetitive fluoxetine treatment affects long-term memories but not learning. Behavioral Brain Research 2013; 247:92-100. IF: 3,391.

3. Sandoval M, Luarte A, Herrera-Molina R, Varas-Godoy M, Santibáñez M, Rubio FJ, Gundelfinger ED, Li K-W, Smit A, Smalla K-H, Wyneken U. The glycolytic enzyme Aldolase C is up-regulated in rat forebrain microsomes and in the cerebrospinal fluid after repetitive fluoxetine treatment. Brain Research 2013; 1520:1-14. IF: 2, 828.

4. Rubio F, Ampuero E, Sandoval R, Toledo J, Pancetti F, Wyneken U. Long-term fluoxetine treatment induces input-specific LTP and LTD impairment and structural plasticity in the CA1 hippocampal subfield. Frontiers in Cellular Neuroscience 2013; 7 (66):1-12. IF: 4,175.

5. Bartsch V, Díaz J, González I, Cavada G, Ocampo-Garcés A, Wyneken U. Electroencephalographic characterization of pentylenetetrazole kindling in rats and modulation of epileptiform discharges by nitric oxide. Neurochemical Research 2014; 39(2):408-418. IF: 2,593.

6. Ampuero E, Luarte A, Santibañez M, Varas-Godoy M, Toledo J, Diaz-Veliz G, Cavada G, Rubio FJ, Wyneken U. Two Chronic Stress Models Based on Movement Restriction in Rats Respond Selectively to Antidepressant Drugs: Aldolase C as a Potential Biomarker. International Journal of Neuropsychopharmacology 2015; 18(10):1-9. IF: 4,009.

7. Batiz LF, Castro M, Burgos PV, Velásquez ZD, Muñoz RI, Laforucade CA, Troncoso P, Wyneken U. Exosomes as novel regulators of adult neurogenic niches. Frontiers in Cellular Neuroscience 2016; 9 (501): 1-28. IF: 4,29.

8. Lopez-Verrilli MA, Caviedes A, Cabrera A, Sandoval S, Wyneken U, Khoury M. Mesenchymal stem cell derived exosomes from different sources selectively promote neuritic outgrowth. Neuroscience 2016; 320:129-139. IF: 3, 357.

Publicaciones (Selección Carlos Lafourcade):

1. Carlos Lafourcade, Tiffany Lin, David M. Feliciano, Longbo Zhang, and Angélique Bordey. mTOR hyperactivity through constitutively Rheb leads to ectopic cell migration, premature neuronal differentiation, and abnormal dendritic morphogenesis in neuroblasts in postnatal wild-type mice. Journal of Neuroscience 2013; 33(6): 2419-2431. IF: 6,747.

2. Feliciano DM, Lin TV, Hartman NW, Bartley CM, Kubera C, Hsieh L, Lafourcade C, O'Keefe RA, Bordey A. A circuitry and biochemical basis for tuberous sclerosis symptoms: from epilepsy to neurocognitive deficits. International Journal of Developmental Neuroscience 2013; 31(7):667-678. IF: 2,918.

3. Stephanie Z. Young, Carlos A. Lafourcade, Jean-Claude Platel, Tiffany V Lin, and Angélique Bordey. GABAergic striatal neurons project dendrites and axons into the postnatal subventricular zone leading to calcium activity. Frontiers in Cellular Neuroscience 2014; 8 (10): 1-9. IF 4,289.

4. Luarte A, Bátiz LF, Wyneken U, Lafourcade C. Potential Therapies by Stem Cell-Derived Exosomes in CNS Diseases: Focusing on the Neurogenic Niche. Stem Cells International 2016; 2016: 1-16. IF: 2,813.

Proyectos:

1. Proyecto Fondecyt 1140108 (2014-2018). Investigador principal Úrsula Wyneken "The nuclear factor-κB (NF-κB) pathway is implicated in epilepsy related cell death: regulation by S-nitrosylation".

2. Fondos de Ayuda a la Investigación FAI II ( Segundo Semestre 2016), investigador Carlos Lafourcade. Apoyo visita de profesor extranjero a Universidad de los Andes "visiting professor USA to Uandes (Dr. Angelique Broderie).

3. Fondo de Ayuda a la Investigación FAI, Investigador Roberto Henzi. Proyecto postdoctoral: "Exosomas liberados por células madre neurales y su posible efecto beneficioso para estimular la neurogénesis alterada de ratas sometidas a estrés crónico".